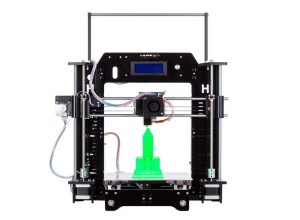 Lessons learned from assembling and printing with a HICTOP Prusa I3 3D Printer.
HICTOP Prusa I3 3D Printer
The HICTOP Prusa I3 3D Printer is based on the Prusa I3 Open Source 3D Printer. It's inexpensive and there are many printable custom parts and modifications.
Things I've learned, so far:
Repetier-Server (Linux) is awesome. I can control my HICTOP Prusa I3 3D Printer and 3D Prints from any web browser
In my prints, PLA 1.75 works best with extruder temperature of 195° and heated bed temperature at 60°
You have to set the extruder temp and bed temp in your gcode files
Level the bed before every print, at least at first
HICTOP Prusa I3 3D Printer Wiring
The wiring instructions, for the HICTOP Prusa I3 3D Printer, appear to show the extruder wires (red) going to E1 on the power block. That's not going to work on this revision. The extruder wires (red) need to go to E0.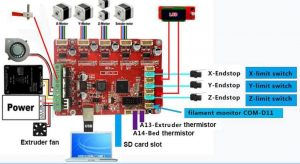 You will also may get a Temp Warning on the LCD screen (Max Temp Error or similar). This is likely due to the temp sensor (white wires in extruder) being over tightened, at the factory, and crushed. Use the smallest Hex Key (Allen Wrench) and loosen the wires in the Extruder to remove it, then replace it with the spare one, included with your parts.
Check out this gents video on how to replace the temp sensor on the HICTOP Prusa I3 3D Printer
Was this helpful?
If you found my posts interesting, or I helped you figure something out, please consider tossing me a tiny gratuity for my time, research, to help offset the web hosting/development costs or to buy me a cup of coffee.

* This post may contain affiliate links. This means that I "might" receive a tiny amount of money, if you make a purchase using one of our links. It does not cost you anything extra, and helps us defray the costs of hosting and maintaining this site.